NOREX Select WebForum: ServiceNow
NOREX Select WebForum: ServiceNow
Tuesday, July 13, 2021 (10:00 AM - 11:00 AM) (CDT)
Description
This event is only for NOREX Select Members from Forbes / Fortune 1000 organizations.
NOREX Select WebForum: Whether you are evaluating or currently using ServiceNow, join other large enterprise organizations to hear experiences and discuss best practices, specific functionality within the modules, justification, ROI, the benefits ServiceNow offers in resolving everyday internal IT issues, and more!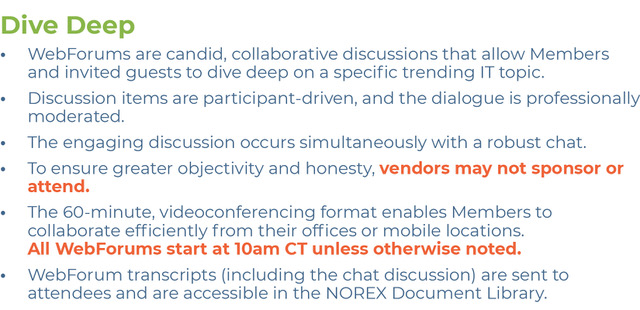 Pricing
This event is included in your NOREX Membership.
Tuesday, July 13, 2021 (10:00 AM - 11:00 AM) (CDT)
Categories
Select WebForum