NOREX Select WebForum: ITSM / ITIL
NOREX Select WebForum: ITSM / ITIL
Tuesday, September 21, 2021 (10:00 AM - 11:00 AM) (CDT)
Description
This event is only for NOREX Select Members from Forbes / Fortune 1000 organizations.
NOREX Select WebForum: IT Service Management is a strategic approach to managing information technology in organizations while delivering value to its customers, and ITIL is the framework that teaches best practices to implementing ITSM. Join IT peers from enterprise organizations to discuss service strategy, design, transition, software solutions, best practices, and to ask specific questions about your ITSM / ITIL journey.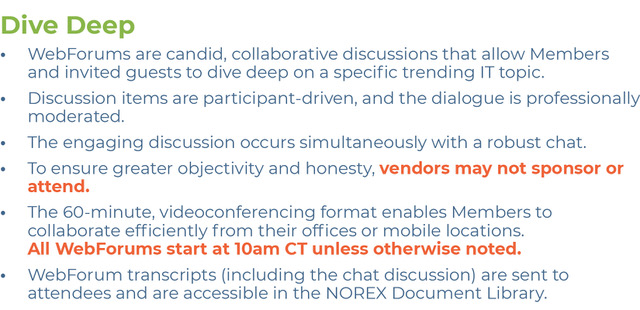 Pricing
This event is included in your NOREX Membership.
Tuesday, September 21, 2021 (10:00 AM - 11:00 AM) (CDT)
Categories
Select WebForum