NOREX Select WebForum: IT Change Management
NOREX Select WebForum: IT Change Management
Tuesday, March 29, 2022 (10:00 AM - 11:00 AM) (CDT)
Description
This event is only for NOREX Select Members from Forbes / Fortune 1000 organizations.
NOREX Select WebForum: Has your organization implemented automated change approvals? What are approval criteria based on? Join IT leaders from enterprise-level organizations to share experiences around strategic scheduling, communication, and rolling out change requests with minimum disruption. Trends, best practices, procedures, tools, and more will be covered.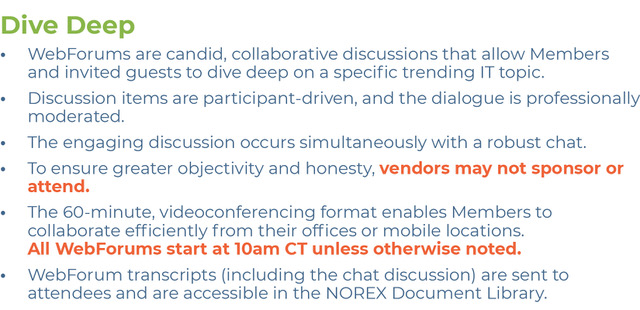 Pricing
This event is included in your NOREX Membership.
Tuesday, March 29, 2022 (10:00 AM - 11:00 AM) (CDT)
Categories
Select WebForum