NOREX Select WebForum: Everything as a Service (XaaS)
NOREX Select WebForum: Everything as a Service (XaaS)
Thursday, June 23, 2022 (10:00 AM - 11:00 AM) (CDT)
Description
This event is only for NOREX Select Members from Forbes / Fortune 1000 organizations.
NOREX Select WebForum: XaaS presents opportunities for companies to significantly reduce costs, eliminate redundancies, and improve agility and efficiency. Join this session to connect with IT professionals from enterprise-level organizations to share experiences and lessons learned regarding products and tools available to assist with gaining greater control over IT infrastructure, quicker access to new and advanced technologies, and more.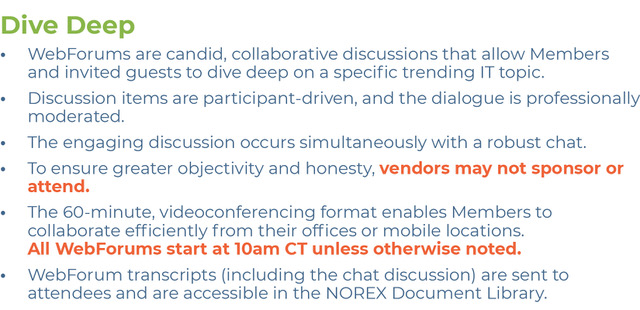 Pricing
This event is included in your NOREX Membership.
Thursday, June 23, 2022 (10:00 AM - 11:00 AM) (CDT)
Categories
Select Roundtable 55