NOREX Select WebForum: Endpoint Security
NOREX Select WebForum: Endpoint Security
Tuesday, August 31, 2021 (10:00 AM - 11:00 AM) (CDT)
Description
This event is only for NOREX Select Members from Forbes / Fortune 1000 organizations.
NOREX Select WebForum: The connection of laptops, tablets, mobile phones, Internet-of-Things devices, and other wireless devices to corporate networks creates numerous attack paths for security threats. Join IT peers from large organizations to share processes, best practices, and tools utilized for protecting a network's endpoints from malicious activity, both on a network and in the Cloud.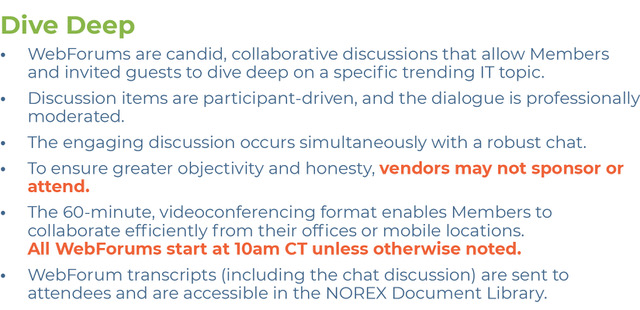 Pricing
This event is included in your NOREX Membership.
Tuesday, August 31, 2021 (10:00 AM - 11:00 AM) (CDT)
Categories
Select WebForum