NOREX Select IT Roundtable: Cybersecurity / IT Security (Virtual)
NOREX Select IT Roundtable: Cybersecurity / IT Security (Virtual)
Wednesday, November 9, 2022 (10:00 AM - 2:30 PM) (CST)
Description
This event is only for NOREX Select Members from Forbes / Fortune 1000 organizations.
Join fellow Cybersecurity / IT Security leaders from enterprise-level organizations to share strategies and solutions for ransomware, phishing, security recovery planning, software vulnerabilities, best practices, tools, and more. This professionally moderated Virtual IT Roundtable will be held on Wed 11/9, 10am-2:30pm CT. The engaging discussion occurs simultaneously with a robust chat. To ensure greater objectivity and honesty, vendors may not sponsor or attend.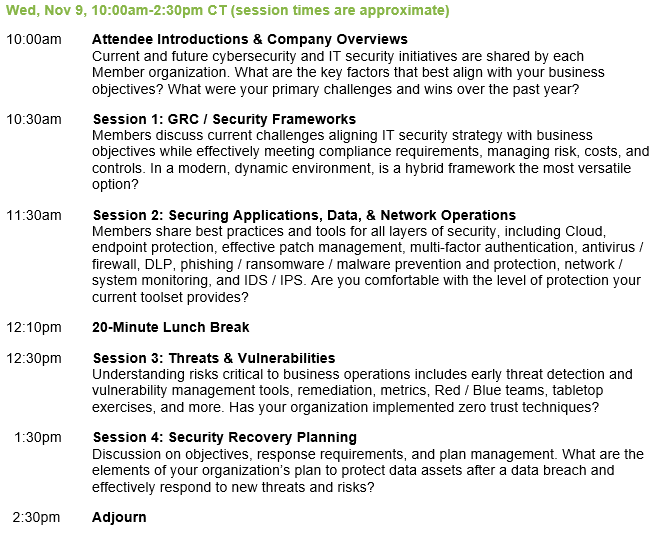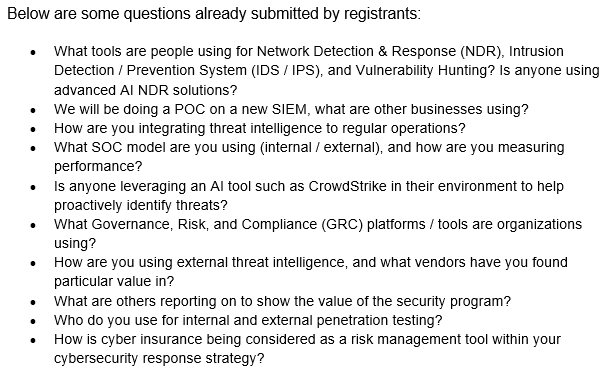 Pricing
This event is included in your NOREX Membership.
Wednesday, November 9, 2022 (10:00 AM - 2:30 PM) (CST)
Categories
Select Roundtable (Virtual)