NOREX Select IT Roundtable 55: Vendor Risk Management (Virtual)
NOREX Select IT Roundtable 55: Vendor Risk Management (Virtual)
Thursday, September 29, 2022 (10:00 AM - 10:55 AM) (CDT)
Description
This event is only for NOREX Select Members from Forbes / Fortune 1000 organizations.
NOREX Select Virtual Roundtable 55: Join IT professionals from enterprise-level organizations in this session to discuss the evolving discipline of Vendor Risk Management. Exchange strategies to ensure vendor engagement does not create unacceptable potential for business disruption or negative impact on performance. Share best practices to reduce vendor-related risks, ensure service delivery, control costs, and more.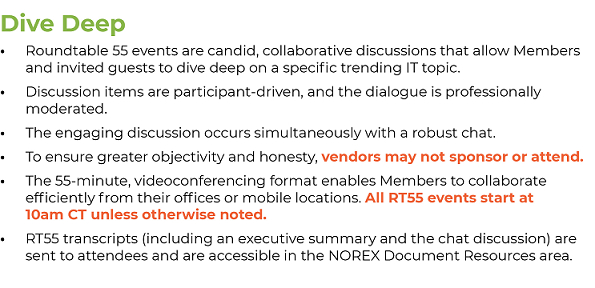 Pricing
This event is included in your NOREX Membership.
Thursday, September 29, 2022 (10:00 AM - 10:55 AM) (CDT)
Categories
Select Roundtable 55