NOREX Select IT Roundtable 55: ServiceNow CMDB (Virtual)
NOREX Select IT Roundtable 55: ServiceNow CMDB (Virtual)
Thursday, November 17, 2022 (10:00 AM - 10:55 AM) (CST)
Description
This event is only for NOREX Select Members from Forbes / Fortune 1000 organizations.
NOREX Select Virtual Roundtable 55: Connect with IT professionals from enterprise-level organizations to share experiences and lessons learned using ServiceNow CMDB and its many features. Discuss implementation, managing services and specific functionality within the modules, ROI, and more.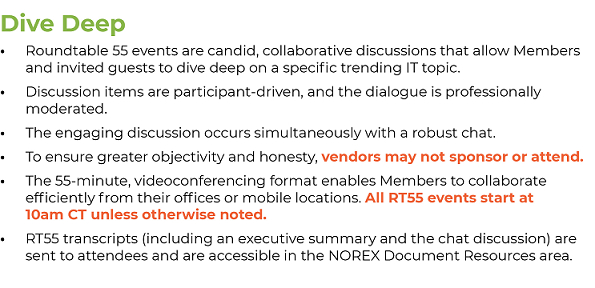 Pricing
This event is included in your NOREX Membership.
Thursday, November 17, 2022 (10:00 AM - 10:55 AM) (CST)
Categories
Select Roundtable 55