NOREX Select IT Roundtable 55: Privacy Laws (Virtual)
NOREX Select IT Roundtable 55: Privacy Laws (Virtual)
Thursday, October 6, 2022 (10:00 AM - 10:55 AM) (CDT)
Description
This event is only for NOREX Select Members from Forbes / Fortune 1000 organizations.
NOREX Select Virtual Roundtable 55: Join IT professionals from enterprise-level organizations in this session to discuss compliance strategies and best practices for staying ahead of changing privacy laws. The conversation will focus on governance, policy, tools, regulations that address telecommunications, health information, credit information, financial institutions, and more.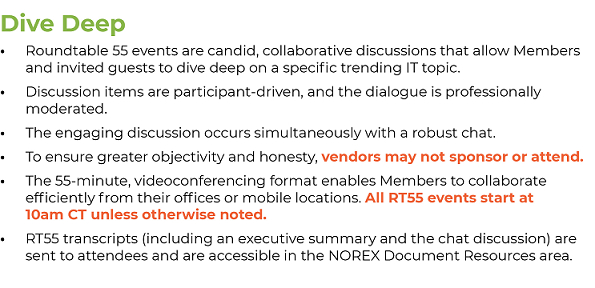 Pricing
This event is included in your NOREX Membership.
Thursday, October 6, 2022 (10:00 AM - 10:55 AM) (CDT)
Categories
Select Roundtable 55