NOREX Select IT Roundtable 55: BI / Data Analytics (Virtual)
NOREX Select IT Roundtable 55: BI / Data Analytics (Virtual)
Tuesday, August 30, 2022 (10:00 AM - 11:00 AM) (CDT)
Description
This event is only for NOREX Select Members from Forbes / Fortune 1000 organizations.
NOREX Select IT Roundtable 55: Join IT professionals from enterprise-level organizations to discuss the implementation of Business Intelligence and Data Analytics processes, tool recommendations, staffing issues, and Cloud deployments. Share solutions and lessons learned on reporting, user adoption, self-service models, and more!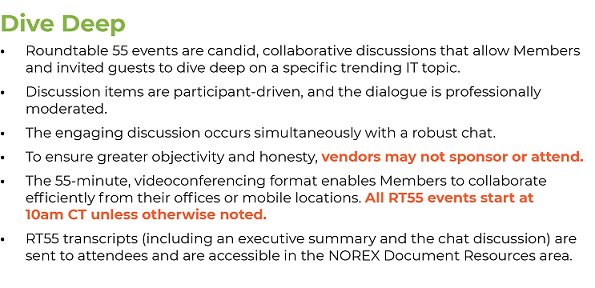 Pricing
This event is included in your NOREX Membership.
Tuesday, August 30, 2022 (10:00 AM - 11:00 AM) (CDT)
Categories
Select Roundtable 55