NOREX Select Event: Enterprise Architecture and IT Innovation Workshop
NOREX Select Event: Enterprise Architecture and IT Innovation Workshop
3/9/2021 - 3/10/2021
Description
This event is only for NOREX Select Members from Forbes / Fortune 1000 organizations.
NOREX Select Workshop - Mar 09, 10:00am-3:00pm CT; Mar 10, 10:00am-2:30pm CT
During this time of business transformation, there is vast potential for Enterprise Architecture to help organizations grow, transform, and thrive. Join EA peers from large organizations across North America for this 2-day Virtual Workshop to examine how EA has evolved to deliver value amidst the changing needs of the enterprise.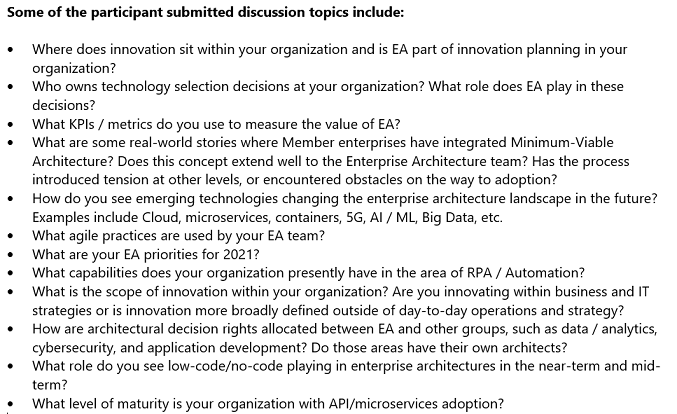 Pricing
This event is included in your NOREX Membership.
3/9/2021 - 3/10/2021
March 9 - 10:00am - 3:00pm
March 10 - 10:00am - 3:00pm
Categories
Select Workshop