NOREX Select Event: Artificial Intelligence / Machine Learning
NOREX Select Event: Artificial Intelligence / Machine Learning
Thursday, June 10, 2021 (10:00 AM - 11:00 AM) (CDT)
Description
This event is only for NOREX Select Members from Forbes / Fortune 1000 organizations.
NOREX Select WebForum: Once buzz words for the future, Artificial Intelligence and Machine Learning are now leveraged in diverse enterprises to improve revenue and reduce costs. In addition, many of the latest generation tools ranging from data analytics to cybersecurity incorporate some level of AI / ML. Join this forward-looking discussion as Fortune / Forbes 1000 Member companies share experience and success with these emerging technologies.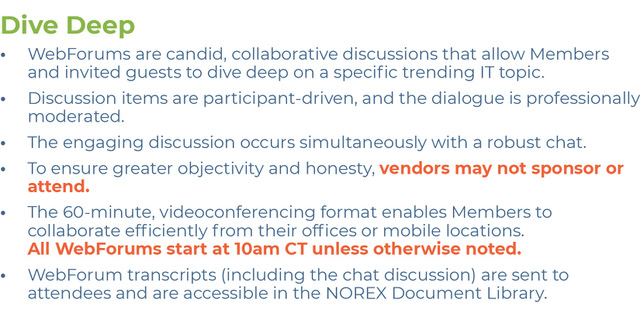 Pricing
This event is included in your NOREX Membership.
Thursday, June 10, 2021 (10:00 AM - 11:00 AM) (CDT)
Categories
Select WebForum