NOREX IT Roundtable 55: CIO - Building a Cybersecurity Culture (Virtual)
NOREX IT Roundtable 55: CIO - Building a Cybersecurity Culture (Virtual)
Tuesday, November 15, 2022 (10:00 AM - 10:55 AM) (CST)
Description
This event is only for C-Level Members and guests.
Please contact events@norex.net to register.
NOREX Virtual Roundtable 55: Does your organization have an effective cybersecurity culture? Join this C-level discussion to hear strategies and lessons learned regarding investing in the right security tools, defining roles and responsibilities, user security awareness training, and more. What steps are you taking to create a strong line of defense against cyber attacks?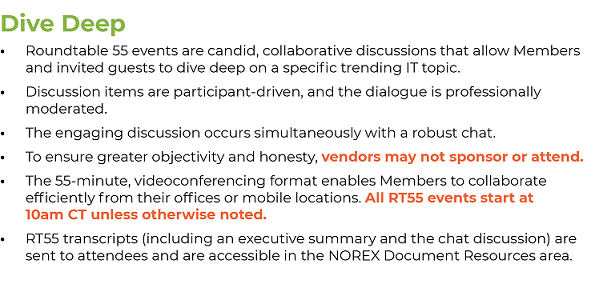 Pricing
This event is included in your NOREX Membership.
NOREX Virtual Event

Tuesday, November 15, 2022 (10:00 AM - 10:55 AM) (CST)