NOREX Event: Cloud Strategies Virtual Roundtable
NOREX Event: Cloud Strategies Virtual Roundtable
Wednesday, January 27, 2021 (10:00 AM - 1:00 PM) (CST)
Description
Join your fellow IT leaders to exchange strategies and solutions during this professionally moderated Virtual IT Roundtable to be held via video-conferencing technology on Wed 01/27, 10am-1pm CT (see the tentative agenda below). The engaging discussion occurs simultaneously with a robust chat. To ensure greater objectivity and honesty, vendors may not sponsor or attend.



Cloud is the backbone of the new tech ecosystem that has been vital for companies to manage the paradigm shift brought on by 2020. Join a group of IT decision makers from diverse organizations around North America for a "deep flight" into the Cloud. Provide your specific questions, and join us for an interactive discussion!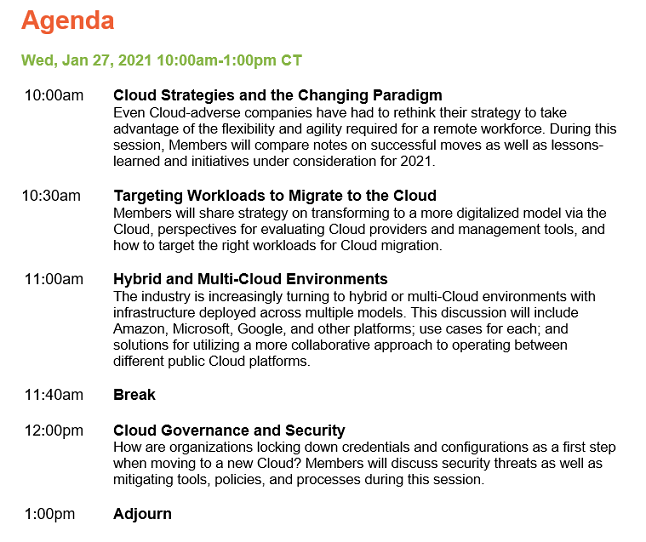 Pricing
This event is included in your NOREX Membership.
NOREX Virtual Event

Wednesday, January 27, 2021 (10:00 AM - 1:00 PM) (CST)