NOREX Select Virtual Roundtable: IT Service Management
NOREX Select Virtual Roundtable: IT Service Management
Tuesday, February 8, 2022 (10:00 AM - 3:00 PM) (CST)
Description
This event is only for NOREX Select Members from Forbes / Fortune 1000 organizations.
Join fellow IT leaders to exchange strategies and solutions during this professionally moderated Virtual IT Roundtable to be held on Tue 2/8, 10am-3pm CT (see the tentative agenda below). The engaging discussion occurs simultaneously with a robust chat. To ensure greater objectivity and honesty, vendors may not sponsor or attend.
IT Service Management is a strategic approach to managing information technology and delivering IT services and value to meet the needs of the company. IT leaders from enterprise-level organizations will discuss service strategy, effective ITSM processes, tool selection, lessons learned, and more!

Tue, February 8, 10:00am-3:00pm CT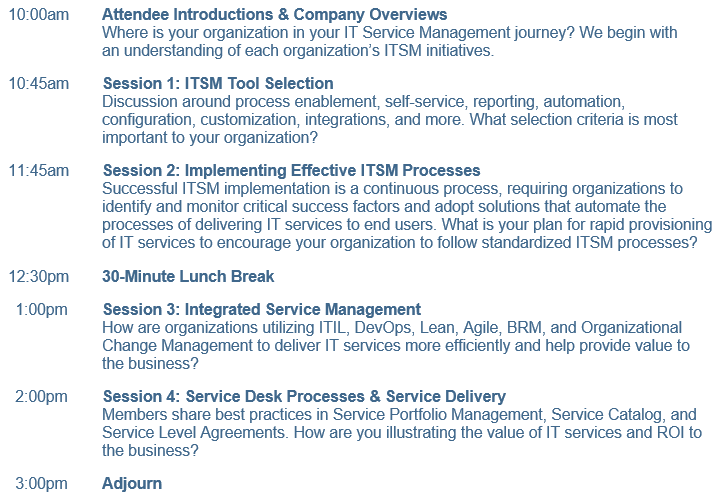 Pricing
This event is included in your NOREX Membership.
Tuesday, February 8, 2022 (10:00 AM - 3:00 PM) (CST)
Categories
Select Workshop